Material Management & Logistics
Managing your material efficiently is what we do!
An efficient project or facility demands attention to detail when it comes to material management. An effective system will reduce administration, maximize your labor and make your job easier. We offer a number of solutions to help you meet your goals.
When you work with Schaedler Yesco, you'll get:
A Custom Plan

Time & Money Savings

Actionable Data

Information to help you meet your KPI goals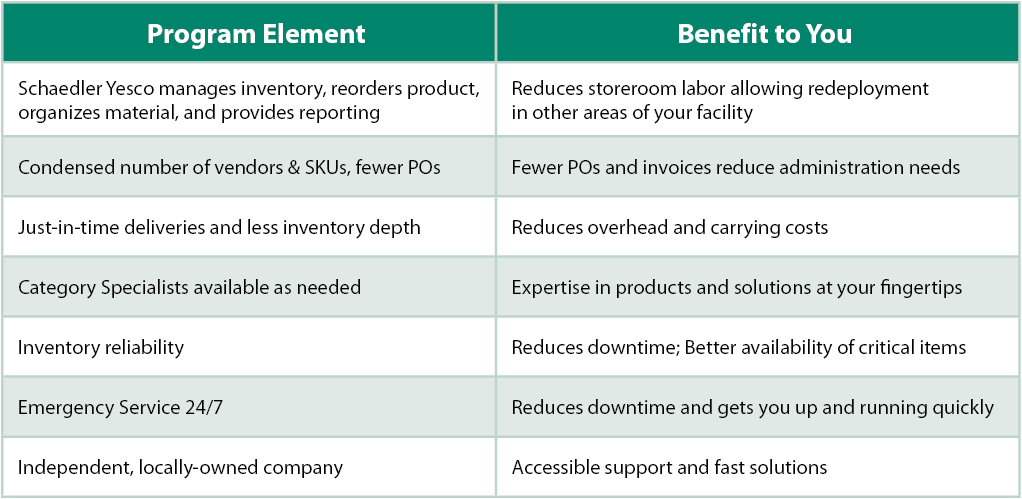 More Information about Our Services & Datacomm
More Information about Material Management Services
Our Jobsite Solution is a custom-designed program with the products, services, and reporting that meet your specifications. 




We offer multiple storage options to meet the specific needs of your job and allow for maximum efficiency.

40' sea boxes

20' sea boxes

20' towable trailers

Large 4-door gang boxes (great for point of use / multi-floor projects)

Pipe carts




40' and 20' Sea Boxes available for your site needs

Inventory management and reordering to keep you stocked

Custom product lists and regular reporting

20' Towable trailers for mobile convenience

Delivery directly to the job site storage unit

Heavy-duty locks for securing your material
Inventory Management Solutions in your facility is critical to keeping your plant running.




In addition to reducing duplicate supply and identifying deadstock, we also offer remanufacturing* and other services to ensure that parts are in service-ready condition.

Reduction in PO's

Consolidated shipments

Asset management

Invoicing options

Custom reporting




Shelving for open access of larger parts

Inventory management and reordering to keep you stocked

Regular visits allow for planning needs

Organized drawers for smaller parts

Custom labels indicate the item and reorder point

Spare parts and remanufacturing services* help keep machines running
For some projects, we can store your ordered materials at our facility and release them as needed. 

This service allows you to maximize your purchasing power or allow for consistent material through-out a longer project.

Simple Storage - We store the skids as they come in from manufacturers, and ship them to your jobsite when you are ready for them
Staging & Storage - We order your project in and store by fixture type, allowing you to release only the quantities and types you want throughout multiple stages of the project
Custom Storage - Our standard Staging & Storage service with added features specific to your job




Specific requirements must be met for this program. Please contact us to learn more.




Stored product for future project stages

Stored product for future project stages
A Custom Plan

The Schaedler Yesco inventory management systems are fully customized inventory solutions for materials and components right on your jobsite or in your facility. As your partner, we will help you identify dead stock and duplicate supply to reduce inventory costs and administration. Our dedicated team will develop, organize, and launch your program based on YOUR needs. Unlike services from other suppliers, we understand that one size does not fit all.




Time and Money Savings

Once your initial plan is in place, your dedicated Schaedler Yesco field rep will establish a regular schedule to review your supply trailer or storeroom. With each item barcoded and located to offer maximum efficiency, we will review your inventory and reorder product to meet your needs. You can change your inventory at any time quickly and easily. We can also assist with the repair and remanufacturing of expensive components by simply adding them to our inventory program.*

*Ask about availability




Actionable Data

We provide actionable reports that help you plan for project or facility changes and maintain the reliable supply your team needs.




Measurements to Meet your KPI Goals

This system is more than inventory management. Many of your productivity key performance indicators can be traced back to the quality and availability of your parts and components. From staffing to downtime reduction to training and skills, we'll show you how you can affect your measurements through a well-planned, reliable material program.