Beware of the Gray Market
The cost of properly maintaining a system can tempt some to look for less (expensive) parts from less reputable sources. Parts and materials sold outside of the Authorized Distributor Network are considered "Gray Market" parts. There are significant risks in purchasing Rockwell Automation products from an unauthorized source. Purchasers from unauthorized sources have reported receiving fake/counterfeit products, used product sold as "new", repaired products sold as "new", improperly repaired (non-functioning) product sold as new, outdated product sold as "new", open box product sold as "Factory Sealed" "Factory New", and used products purportedly sold with a "Factory Warranty" among other false and misleading claims. Purchasing Rockwell Automation branded products from an unauthorized source presents significant safety and security risks that should be carefully considered and avoided.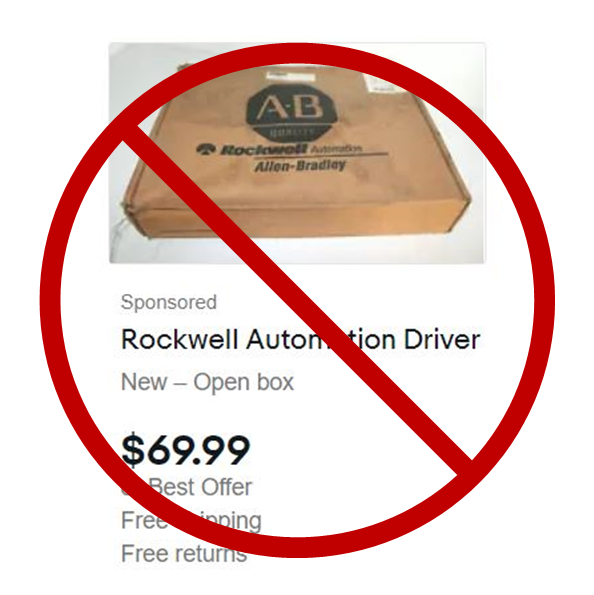 Gray Market products put your facility at risk.
If you buy Gray Market product:
No Warranty -- Rockwell does not warrant product not purchased from Authorized Dealers. Some resellers offer a fake warranty or none at all.
No Software License -- Products that require software and/or firmware do not receive a license to use or download the needed files. All other downloads of these materials are prohibited.
No Service -- Rockwell has refused to provide customer support to customers who are known to have purchased Rockwell Automation products from an unauthorized source.
No Quality Assurance -- Gray market material may contain defects or malfunctions due to improper handling, transportation, and storage of the products. These products may also have physical contaminants if used in other facilities.
No Security -- Materials from unknown sources may contain malware and viruses that could affect your entire system. The product may also have outdated firmware which also raises serious safety and security concerns.
No Updates -- Rockwell or its authorized distributors provide product safety and recall notices to those that have purchased genuine Rockwell Automation products.
---
There are alternatives to buying unknown & unauthorized material.
Preparation is a great alternative to resorting to Gray Market purchases. We offer services that can help you plan ahead and reduce the effects of critical situations.
Remanufacturing Services
With a proven and consistent process in place, you can restore your Allen‑Bradley equipment to its original operating condition to make sure it will function reliably.
Factory-authorized Repair
Rockwell's 10 global, ISO-certified equipment remanufacturing facilities use the same high-quality parts, standards, and specifications as the original manufacturing process. This means you can restore your automation equipment to like-new or better condition, to enhance performance and extend product life. Depending on the service level you select and your region, all remanufactured equipment includes a 12-, 18-, or 24-month warranty.
Exchange Services
With our priority service, a replacement part is sent to you via expedited service.
Industrial Repair Services
No Matter Who Manufactured Your Automation Equipment, We Can Repair It
Rockwell provides industrial repair services on 200,000 items from 7,000 plus manufacturers. Simplify your operations and achieve a quality result by using a single-source repair provider.




For more insight, click below: