Reliable, Safe and Intelligent Power Distribution.
A valuable gear partner offers more than just the product you plan to install. At Schaedler Yesco Distribution, we are proud to have a deep bench of professionals to support your power distribution needs.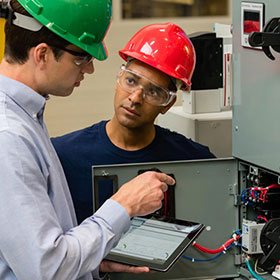 POWER DISTRIBUTION

Residential Load Centers
Residential Circuit Breakers
Single-family Metering
Multi-family Metering
Saftey Switches & Disconnects
Panelboards
Switchboards

Low Voltage Switchgear

Low Voltage Circuit Breakers

Low Voltage Dry Type

Transformers




Medium Voltage Swtichgear

Medium-Voltage Circuit Breakers

Medium Voltage Liquid Filled Transformers 

Unit Substations

Digital Power & Thermal Monitoring

Smart Grid Technology

Surge Protection Devices

Generators

Transfer Switches

Short Circuit, Coordination, & Arc Flash Studies

GENERATORS

Standby Generators 
Transfer Switches 
Portable Generators and Inverters 
Paralleling Switchgear
Generator Connection Cabinets
Battery Storage/Clean Energy
Mobile Generators
Mobile Light Towers
Mobile Pumps 
Mobile Heaters

Call us for load centers and breakers!

Residential load centers (also known as fuse boxes or breaker boxes) distribute electricity to all devices throughout a house or apartment, including HVAC systems, light switches, and power outlets. Schaedler Yesco offers a variety of load centers that will meet the needs of your job. Whether you're installing a spa or building a high-rise apartment building, we have you covered with the highest quality, most complete offerings on the market. 




Our innovative product partners focus on your needs, developing products that make installation faster and easier. We're proud to stock a complete offering for quick ship*. 




*not all products available in all areas. See your Schaedler Yesco Sales Rep for details.







We offer a robust selection of flexible and feature-rich products designed to exceed today's multi-family demands.

With an eye toward productivity and overall value, we provide exclusive systems that have proven to reduce labor by as much as 43% over comparable solutions. We can help you chose products that meet your needs for budget and flexibility. 




*not all products available in all areas. See your Schaedler Yesco Sales Rep for details.










Consistent, safe, and intelligent low-voltage power distribution is achievable.

Whether in residential, commercial, or industrial applications, each environment is dependent on a reliable power supply, maximum safety, and optimum efficiency. We offer a comprehensive and innovative portfolio for low-voltage power distribution meeting ever-changing market demands and customer needs.








Optimal power distribution for medium voltage is the key to using smart grids.

Using a smart grid to achieve more economical and responsible use of power, requires the right elements. An integrated approach to medium-voltage power distribution is the basis for green cities, energy-efficient infrastructure, buildings and industrial applications, and high-supply reliability.

We offer a comprehensive portfolio of medium-voltage power distribution options to achieve your goals.






Schaedler Yesco is more than a distributor.

We're a business partner focused on the details that help make you more competitive and more profitable, regardless of the job size.

When you work with us, you can expect:

Comprehensive solutions for your specific needs
Professional, technical support
Fast, local decisions without the red tape
Efficient, regular communication
Reliable deliveries




Backup power for home, office, and jobsite.

Whether you're a contractor installing home standby projects or you're looking to add backup power to a construction project, we can help.  We also have a variety of mobile solutions!




Standby Generators 

Transfer Switches 

Portable Generators and Inverters 

Paralleling Switchgear

Generator Connection Cabinets

Battery Storage/Clean Energy

Mobile Generators

Mobile Light Towers

Mobile Pumps 

Mobile Heaters









More Information about Power Distribution