Energy savings can be found throughout your facility.
Besides being environmentally responsible, saving energy can have a positive impact on overhead costs. From choosing compliant cost savings products to developing overall power usage programs, our specialists can help make you and your customers more efficient and save money.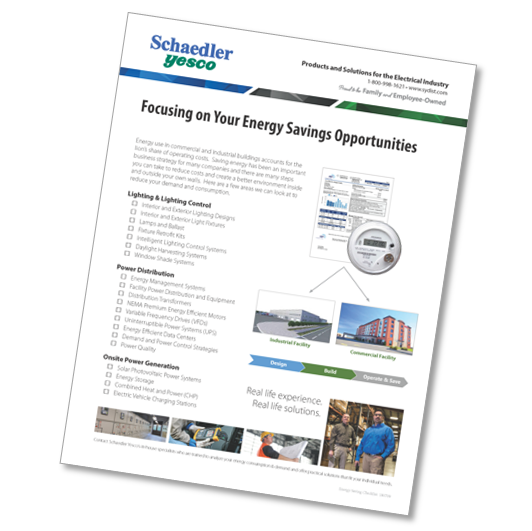 SOLAR PHOTOVOLTAIC (PV

Grid-Tied
Off Grid Standalone Power Systems

EV CHARGING

Wall Box Home Chargers
DC Fast Charging
eBus / eTruck Charging Depots

LIGHTING SOLUTIONS

Building Energy Audits/Solutions
What is the impact of poor power quality?

Poor power quality can negatively impact both the performance and the life expectancy of power distribution systems and electrical equipment in your facility. This can have a serious impact on downtime and KPI management. 

Loss of Power - Critical Loads
Equipment Failure / Deterioriation / Overheating
Equipment & Production Downtime
Penalty Charges from Utilities
Data Loss
Inadvertent Tripping of Protection Equipment
Unplanned Maintenance


Power variables can occur both inside and outside the building and can be a variation in voltage, current and frequency. Although utilities can sometimes be the source of quality problems, such as voltage sags, research by the Electic Power Research Institute has found that utility users cause 70% to 90% of their own power quality issues including

Voltage Sags
Voltage Swells
Power Loss and Interruption
Surge or Transients
Power Factor
Electrical Noise
Harmonics
Frequency Variation


From basic measurement to sophisticated real-time data collection, our specialists can help determine the correct size and solution based on the application to help you meet your goals.



Lighting affects both productivity and energy efficiency.

Outdated lighting can absolutely affect how productive your facility is and how much money you spend to run it. If you haven't updated your lighting in the last 10 years, it's costing you more than it should. With new lamp and ballast technologies and smart controls, we can help you see the benefits more clearly and design a system that meets your goals.






The future is smart energy.


Solar / Smart Grid

We offer a comprehensive portfolio of products, systems, solutions, and services to optimize the performance, reliability, and return on investment of any solar installation – from residential rooftops to commercial and industrial applications and utility-grade power plants.






The Utilities want to help you save money!

Energy savings is possible by implementing a variety of measures in your project including new technology and power management. But your project ROI, or simple payback decision, can also involve money-saving rebate programs. Understanding which program is best for you can be challenging. Our in-house energy and lighting experts will help analyze your lighting specs, consumption, and demand and offer practical solutions that are right for your needs. Then they'll review which rebate program offers you the best return. We even handle the rebate processing!









More Information about Energy Solutions
Schaedler Yesco Distribution, Inc. participates in the PJM Capacity Market program. Purchaser assigns the rights to offer any electric demand savings achieved through this project into the PJM Capacity Market to Schaedler Yesco Distribution, Inc.- see LEVCHR