Our Electrical Supplies are at the very heart of Schaedler Yesco Distribution.
From the basics to the specialized, we can provide you with the materials you need for any size project. We stock over 16,000 SKUs across our 23 locations and 280,000 square feet of inventory giving you quick access to product.

Whether MRO or a project, we've got your back!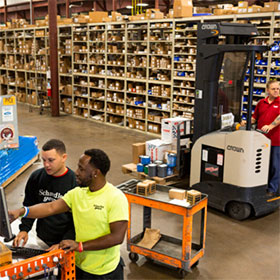 BATTERIES / FLASHLIGHTS

All Purpose Batteries

Button Batteries

Flashlights

Sealed Acid Batteries

And More

 

BOXES / COVERS

Floor Boxes
Metal Boxes & Accessories
Non-metallic Boxes & Accessories
Plastic & Stainless Steel Covers
And More




CHEMICAL MAINTENANCE

Cleaners
Cleaning Rags
Corrosion Inhibitors
Cutting Oil
And More




CONDUIT, STRUT & FITTINGS

Aluminum Conduit & Fittings
Condulets & Pulling Elbows
EMT Conduit & Fittings
ENT
And More

 

CONTROLS / AUTOMATION

Buttons-Pilot Lights-Stack Lights
Connectivity-Cord Sets-Term Blocks
Contactors-Starters-Breakers-Trans.
Drives
And More




DATA / FIRE / SECURITY

Cat Cable, Jacks, Patch Cords, Panels
CCTV
Coax & Low Voltage
Faceplates
And More




ENCLOSURES

Basic Screw Cover and Hinge Cover
Common Industrial Enclosures
Consolets
Continuous Hinge Enclosures
And More

FUSES

Automotive
Fast Acting
Fast Acting Glass & Ceramic
Forklift Fuses
And More




HARDWARE 

Anchors & Hooks
Beam Clamps
Bits
Jack Chain & Tie Wire
And More




HEATING / COOLING / EXHAUST

Baseboard Heaters
Ceiling Fans
Cooling Fans (Enclosure)
Exhaust Fans
And More




LIGHTING / LAMPS / BALLASTS

BALLASTS- Flourescent
BALLASTS- Metal Halide
BALLASTS- Sign
Decorative Lighting, Fans, etc
And More




POWER / DISTRIBUTION

100A Overhead Service
100A Underground Service
200A Overhead Service
200A Underground Service
And More




RACEWAY / WIREWAY




RECYCLING

Ballast Recycling
Battery Recycling
Fixture Recycling
Lamp Recycling

 

SAFETY

Arc Flash Equipment
Ear/Respiratory/First Aid
Firestop
Gloves
And More

  

TAPE / TIES / MARKERS

Cable Ties -Good
Cable Ties -Better
Cable Ties -Best
Cable Ties -Mounting Base
View More

 

TERM / GROUND / SPLICES

Barrier/Terminal Strips
Butt Splices
Cold Shrink
Compression Lugs-Alum/Copper
View More

 

TOOLS / TESTERS / LADDERS

Hand Tools
Ladders
Meters & Testers
Mice (Conduit Pistons)
And More

 

 WIRE

ALUMINUM Wire
COPPER Wire
Wire Lube

 

WIRING DEVICES

1 Pole High Amerage Devices
Combination Devices
Dimmers
Hospital Grade Devices
View More

 



Even small changes with products or processes can have a meaningful effect on your business.

We're here to help you identify ways to make incremental (and painless) changes that will drive productivity, efficiency, and savings.










When it comes to MRO, efficiency and speed are key.

We stock thousands of the most used items so you can stay productive. Whether picking up at one of our 23 locations, organizing regular deliveries of your most needed items, or using our on-site vendor-managed inventory program, we'll help you and your team stay ready for whatever comes up.







More Information about Electrical Supplies