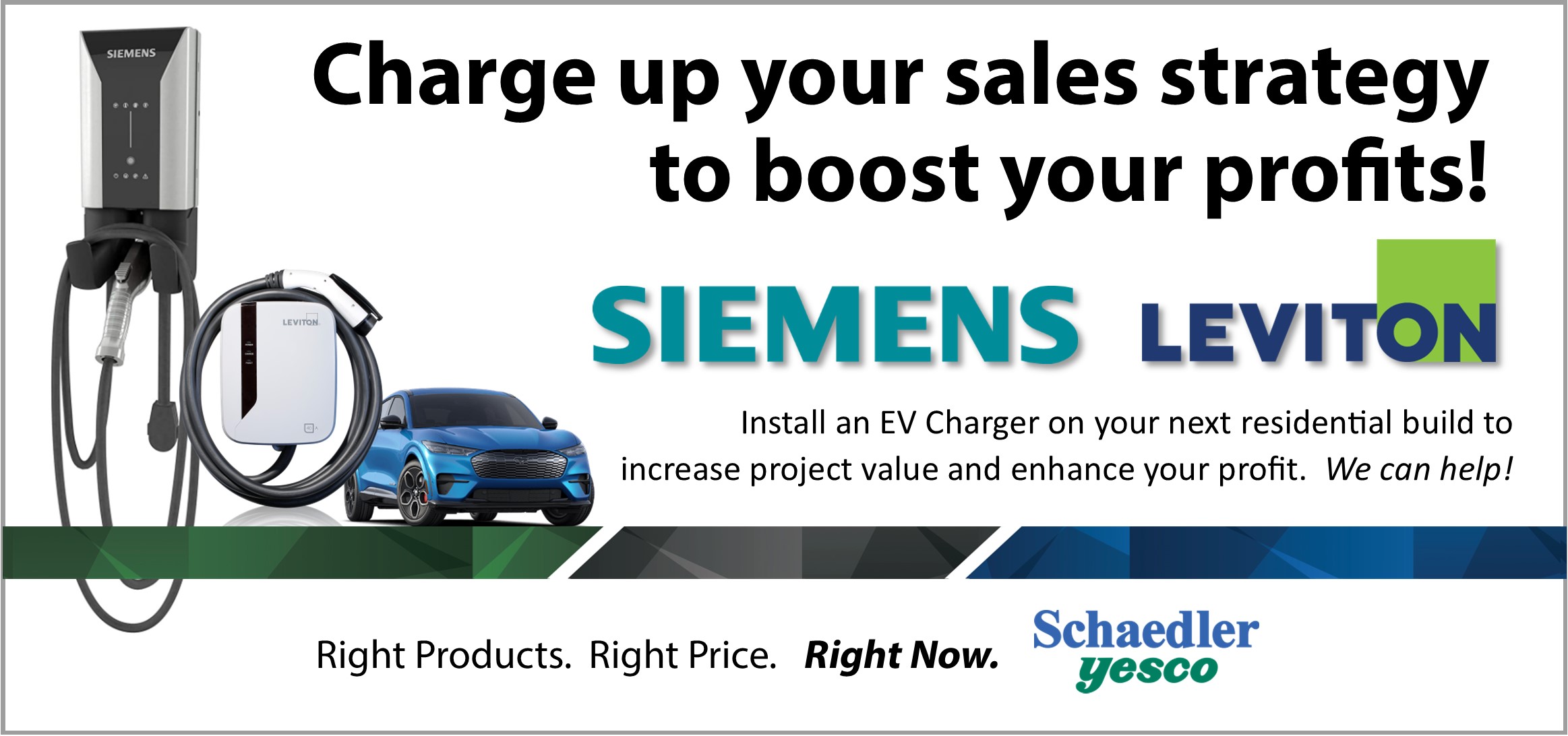 ---


It's clear that Electric Vehicles are a growing category in the global automobile business.
While they may not be completely mainstream yet, they are well on the way to becoming a major consideration for those in the market for transportation. With more EVs on the road, and new legislation on the books, EV Chargers will follow suit.
From environmental to commercial, there are many reasons to include EV Chargers in a new project.  But for an Electrical Contractor, the biggest reason is sales potential.  But before jumping in, it's important to understand the big picture.  Click here to learn the basics of EV Charging.
Adding EV Charging to residential projects is a win for both the EC and the builder/developer. Whether single-family or multi-unit, offering EV Charging is strong value-add for the end user. When the goal is to sell homes or rent new units, an upgrade like EV Charging can make the difference without being difficult or cost-prohibitive to include. In the end, this simple add can improve the overall value of the dwelling and add dollars to your profits.
We're proud to offer the industries top brands in this category. Take a look at the options, then let us know how we can help you add EV Charging to your next project.
Siemens: 
Growth in eVehicle sales, charging infrastructure and energy management is transforming the mobility landscape. Siemens is poised to support any size business whether new to EV charging or looking to expand their services.
Leviton: 
Leviton is proud to offer a complete line of electric vehicle supply equipment (EVSE) and support services. Whether you are the owner of an electric vehicle, a commercial business owner, public utility company, or governmental body, there's an Evr-Green solution for you.


---
Working on a new construction project but don't know if they'll need an EV Charger?  
You can still add value by making the home "EV Ready!"
An EV-ready home provides consumers with safe access to a dedicated 240V power supply for the faster Level 2 EV charging. Pre-wiring new homes for EV charging during construction can save a homeowner hundreds of dollars later. By pre-wiring, builders can offer a future-proof product. As an EC on the project, you can suggest this valuable add-on to not only boost your sale to the builder, but they can make it an upgrade to the buyer.