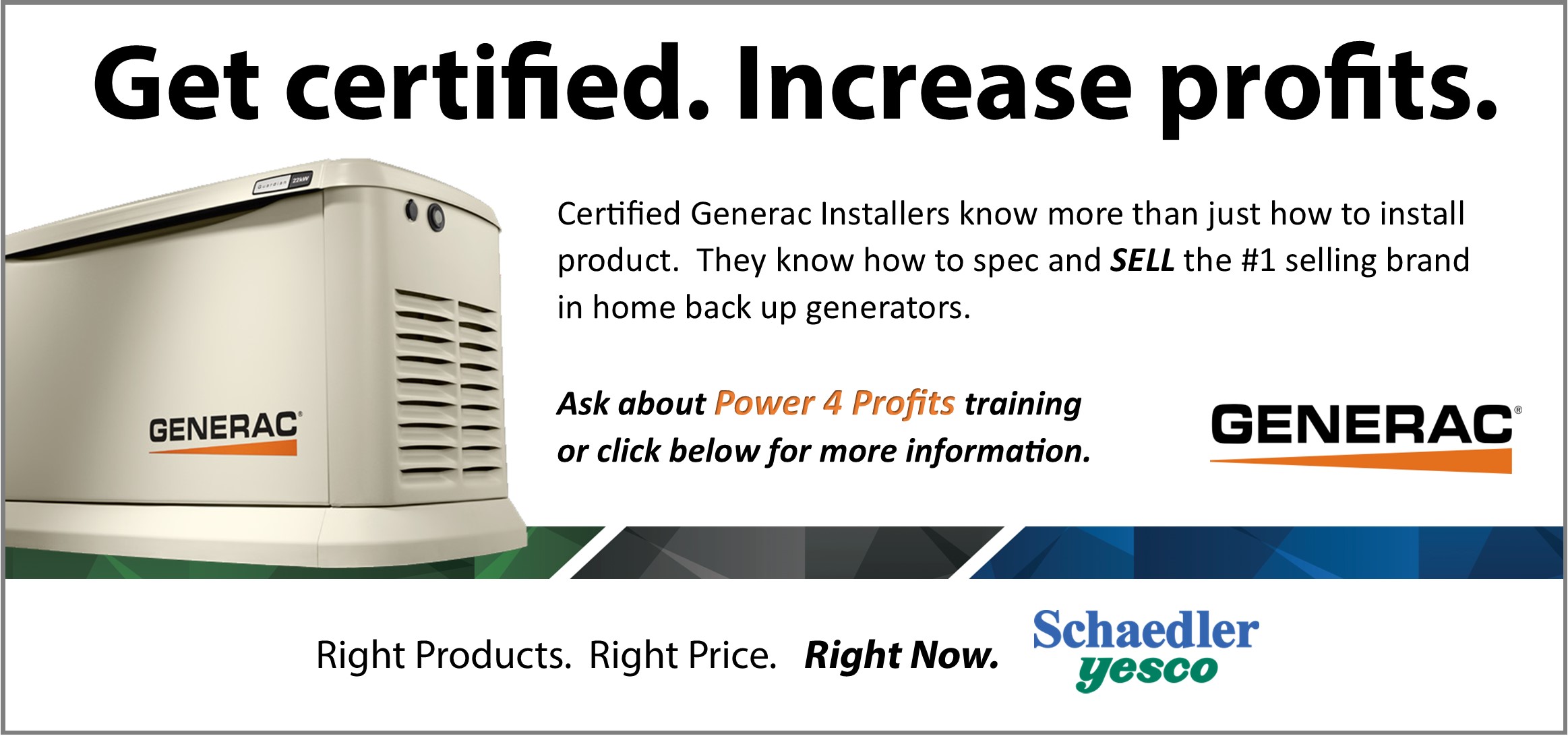 ---


Peace of mind for them. Profits for you.
Electricity is an essential part of the home whether it's running life-saving equipment, protecting your property, or allowing for comfort features. Most homeowners can't imagine living more than a short time without it. Many homeowners are choosing to invest in a whole house backup generator for peace of mind and safety.  
The Opportunity
Generac's proprietary, best-in-the-industry market-demand analytics are showing that demand is high, and the power generation business continues to be healthy.  
Consumer inquiries are up year-over-year
Consumer demand is at some of the highest levels seen in the last 12 months
Generator activations are up year-over-year
Web traffic on generac.com is up 20% year-over-year
While some rely on portable generators to hold them over, the truth is that they can become deadly if improperly installed or operated. Improper use, a generator placed in the living area, basement, or inside an attached garage or shed, accounts for a significant number of fatalities due to carbon monoxide poisoning and fire. Most fatalities occur in the winter months.
Why Generac
Generac created the home backup generator category. Today, Generac generators are preferred by 8 out of every 10 homeowners who invest in home backup power.
A permanently installed Generac home backup generator protects the home automatically. It runs on natural gas or liquid propane (LP) fuel, and sits outside just like a central air conditioning unit. A home backup generator delivers power directly to the home's electrical system, backing up the entire home or just the most essential items. 
Click to learn about Generac's FREE 10-year warranty!    Good through September 25, 2022.  A $1035 value!
Aftermarket or new construction
Whether you're installing a Generac system to an existing home or installing it during new construction, backup generators are more than a safety net.  According to Consumer Reports, a whole-house generator properly installed by licensed and certified electricians could raise a home's value by 3% to 5%.  Studies have also shown that homes with a backup generator have an edge when selling against those without. 
FAQ
Read More
We'll help you Sell
Generac's Power 4 Profits Training, offers practical training to help you sell:
Residential Market Overview 
Site Preparation 
Fuel Considerations 
Backup Options 
Transfer Switch Connections 
Generator Connections 
Operational Tests & Final Steps 
Sizing the Generator: NEC 220, Part IV
Take it another step and sign up for Certified Installer Training. You'll learn proper installation requirements, best practices, and code considerations for Air-Cooled and Liquid-Cooled Res/Com standby generators. There's a $100 enrollment fee for this class that will be reimbursed to you via an account credit when you make your next generator purchase through Schaedler Yesco.
Learn More about Training




Available at Schaedler Yesco
Stop in at one of our locations or shop online.